Boosting Educators' Computer Science Knowledge
Computing is vital to nearly every facet of modern life. Yet teachers aren't always well prepared to help K-12 students learn what they need to succeed.
That's why an interdisciplinary Husker research team launched AIR@NE, a program boosting Nebraska educators' ability to effectively teach computer science. The group won a four-year, $2 million National Science Foundation grant to develop the program.
"Computer science isn't just for computer scientists anymore," said project leader Leen-Kiat Soh, professor of computer science and engineering. "It's fundamental, like math. Regardless of which field they choose, students benefit significantly from knowing programming and how to solve problems using computer science."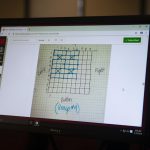 In Nebraska and many other states, there's no standardized K-12 computer science curriculum, no required training for teachers and few educators equipped to teach the subject. Teaching computing in Nebraska requires no specialized training.
AIR@NE is training about 100 educators from diverse districts statewide, including majority-minority, rural and native schools. Each summer, around 25 teachers take courses bolstering their computer science and teaching knowledge. They learn a highly successful K-8 computer science curriculum that the Lincoln Public Schools launched in 2014. Teachers will export this model curriculum to their districts, tailoring it to meet students' needs.
They'll also join a network linking experienced computer science educators with novices. This network is particularly crucial in Nebraska, where most schools have a single computer science teacher, if that.
"Unless we connect these teachers to a network, they're not going to be able to seek advice. They can't just walk down the hall and talk to someone else," said Wendy Smith, research associate professor and associate director for Nebraska's Center for Science, Mathematics and Computer Education.
Researchers will study the effects of the network and training program, and how each district adapts the curriculum.
Nebraska's team includes Gwen Nugent, research professor, Nebraska Center for Research on Children, Youth, Families and Schools; Kent Steen, LPS curriculum specialist; and Guy Trainin, Melvin C. and Jane N. Nore Professor of Teaching, Learning and Teacher Education.
Additional content
Nebraska news release: Husker team aims to strengthen Nebraska's K-8 computer science curriculum