Amid International Acclaim, Obioma Feels at Home in Nebraska
Being shortlisted for the prestigious Booker Prize for Fiction opens many doors. Chigozie Obioma has traveled the world since his debut novel, "The Fishermen," was a finalist in 2015. But the assistant professor of English said he's content to call Nebraska home.
Obioma, who grew up in Nigeria, published his second novel in 2019. "An Orchestra of Minorities" also made the Booker Prize shortlist and has received national media attention. He moved to Nebraska in 2015 after receiving his Master of Fine Arts at the University of Michigan.
Lincoln is conducive to writing, Obioma said, though he finds it amusing that, in his many travels, the most interesting thing about him seems to be his choice to live in the Cornhusker State.
"I'm a bit of a hermit. So, what we have here in Lincoln is just enough for me," he said. "I feel like it gives me the space to imagine myself a little removed from the serious urbanization happening everywhere, glass houses here and there."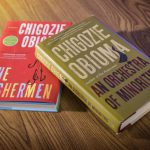 Obioma said he appreciates getting to know Nebraska writers and book lovers. He's spent evenings at local book clubs, engaging with readers in a way he doesn't think would happen if he lived in New York City, where he visits often.
Before moving to Nebraska, he was unsure how an academic career would affect his writing but finds he enjoys teaching.
"One grows as a writer by trying to help others learn the craft," he said. In his creative writing classes, he focuses on helping students develop their strengths and trust that their weaknesses will improve.
Obioma's books are set largely in Nigeria. "The distance is the reason I keep writing about Nigeria, because it feeds a kind of longing for the place," he said. "When I feel myself removed from a place is when I really want to write about it."
While Obioma's next few books will take place in Africa, as he gets to know Nebraska, he said he finds himself writing more frequently about his new home. "I like to do road trips. It feels empty, quiet. It really inspires me."
Additional content
Nebraska news release: Obioma's new novel makes Booker Prize shortlist
Media mention: 'Why Jay?': Chigozie Obioma on the haunting death that inspired his novel (The Guardian, 1/18/2019)
Media mention: 'I read morning, night and in between': How one novelist came to love books (The New York Times, 12/3/2018)
Media mention: Chigozie Obioma: By the book (The New York Times, 12/3/2018)