Sicking wins top tech award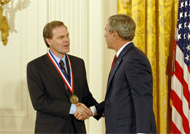 UNL civil engineer Dean Sicking has been awarded the nation's highest honor for technology for his contributions to roadside and race track safety.

The White House announced June 12 that Sicking is a recipient of the National Medal of Technology. He was one of 10 individuals and companies named National Medal of Technology Laureates for 2005, the latest year for which the award has been given. The prestigious award honors America's leading innovators. It is given to individuals, teams and companies for outstanding contributions to the nation's economic, environmental and social well-being through NUtech Ventures and commercialization.

Sicking holds the Leonard A. Lovell Professorship in civil engineering and is director of the Midwest Roadside Safety Facility at UNL. His innovative guard rail terminals and other innovative roadside safety technologies are used in every state in the U.S., where they prevent fatalities and injuries for travelers on the nation's highways.

Sicking invented the first energy-absorbing guard rail terminal as well as subsequent generations of terminals. They are installed on virtually every high-speed, high-volume roadway in the U.S. It's estimated that these guard rail terminal systems prevent more than 150 fatalities annually.

Sicking's highway safety research also led to development of the Steel and Foam Energy Reducing (SAFER) Barrier, the so-called "soft wall," that has been installed at NASCAR and Indy Racing League high-speed racing ovals around the country. The SAFER barrier absorbs energy to reduce the crash's impact and then distributes energy over the wall without forcing the vehicle back into traffic.

His development of numerous other roadside safety features has led to more than 25 U.S and numerous foreign patents.

White House awards ceremony