The Office of Research at the University of Nebraska–Lincoln provides a host of resources to support excellence in research, scholarship and creative activity. Scroll down for a brief summary of the services and resources each unit offers to researchers at UNL. Related links below will lead you to additional resources for researchers.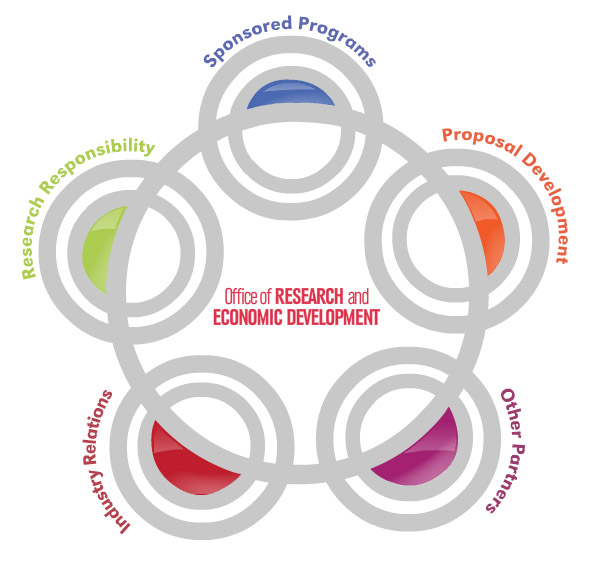 301 Canfield Administration Building
PO Box 880433
Lincoln, NE 68588-0433
(402) 472-3123
FAX: (402) 472-3834
unlresearch@unl.edu
Prem S. Paul, Vice Chancellor for Research and Economic Development
Bill Charlton, Associate Vice Chancellor for Research
Steve Goddard, Associate Vice Chancellor for Research
Michael Zeleny, Associate Vice Chancellor for Research
Monica Norby, Assistant Vice Chancellor for Research
Services
Resources
Recognition and publicity for major awards
Special events (annual Research Fair, seminars)
---
151 Prem S. Paul Research Center at Whittier School
2200 Vine Street
Lincoln, NE 68583-0861
(402) 472-3171
FAX: (402) 472-9323
Jeanne Wicks, Director
Services
Assists with pre-award and post-award services throughout the award life cycle.
Reviews, provides advice on and submits proposals to extramural sponsors for research, training and public service projects.
Negotiates and accepts awards, confidentiality agreements and material transfer agreements on behalf of the University of Nebraska Board of Regents; drafts and negotiates subcontracts.
Provides financial management and close-out of awards, problem resolution and coordination of interactions with sponsors.
Resources
Individual consulting and training
---
379 Prem S. Paul Research Center at Whittier School
2200 Vine Street
Lincoln, NE 68583-0864
(402) 472-2894
FAX: (402) 472-9323
Tisha Mullen, Director
Services
Works with faculty to conceptualize and develop competitive external grant proposals.
Facilitates collaboration on interdisciplinary and multi-institutional grant proposals.
Helps UNL grant applicants meet proposal preparation requirements.
Helps improve clarity, organization and visual appeal of the narrative components of grant applications.
Resources
---
Under the leadership of UNL's institutional official, Associate Vice Chancellor for Research Steve Goddard, Research Compliance Services and the Institutional Animal Care Program work with faculty and other university resources to ensure that UNL research and scholarship comply with federal, state and university regulations and guidelines and safety requirements.
---
275 Prem S. Paul Research Center at Whittier School
2200 Vine Street
Lincoln, NE 68583-0864
(402) 472-6965
FAX: (402) 472-6048
irb@unl.edu
Services
Manages the Human Research Protections Program and facilitates the Institutional Review Board, which reviews and authorizes study protocols for research involving human subjects.

Ensures interest reporting and facilitates the Conflict of Interest in Research Committee.
Manages the university's Responsible Conduct of Research initiative.
Helps facilitate research misconduct processes.
Manages UNL's Export Control Program.
Resources
Compliance resources and training on the Web (CITI)
Individual consultation
---
110 Mussehl Hall
Lincoln, NE 68588-0720
(402) 472-4486
FAX: (402) 472-5887
iacuc@unl.edu
Kelly Heath, Director and Attending Veterinarian
Services
Provides veterinary care and supervision in support of quality animal care.
Provides the guidance and training necessary to support high quality university research involving animals.
Oversees the Institutional Animal Care and Use Committee that assures compliance with all laws, regulations and rules governing the care and use of laboratory animals.
Jointly manages research safety activities with Environmental Health & Safety Services.
Resources
2021 Transformation Drive, Suite 2220
Lincoln, NE 68508
(402) 472-4069
IndustryRelations@unl.edu
Ryan Anderson, Director
Services
Industry Relations works to advance private-public partnerships that involve the university, with a focus on facilitating collaborative activities with industry.
Other Partners
The Office of Research and Economic Development partners with other units within and outside the university to provide additional support to faculty researchers.
---
NUtech Ventures, a separate nonprofit technology commercialization company dedicated to serving the inventor community at the University of Nebraska. NUtech links industry, entrepreneurs and investors with academic researchers who are driven to commercialize their technologies. NUtech builds value by forming long-term, trusted relationships with external partners leading to technology that is not simply "transferred" but jointly created, developed and exploited in a fully collaborative process.
2021 Transformation Drive, Suite 2220
Lincoln, NE 68508
(402) 472-1783
info@NUtechVentures.org
Brad Roth, Executive Director and UNL Vice Chancellor for Technology Development
Services
Works with inventors to promote the transfer of technologies created at UNL into the commercial sector for public benefit.
Helps faculty, students and staff protect their inventions through patents or copyrights so their research efforts can lead to new products or services in the marketplace.
Commercializes UNL inventions through licensing agreements, creation of start-up companies and public-private partnerships that fuel economic development and create more jobs for Nebraska.
Resources
Consulting and guidance for university inventors
---
1100 Seaton Hall
Lincoln, NE 68588-0619
(402) 472-5334
Richard Lombardo, Director

Services
Provides centralized professional and career development resources for postdoctoral scholars and faculty supervisors
---
1100 Seaton Hall
Lincoln, NE 68588-0619
(402) 472-2875
FAX: (402) 472-0589
Lance Pérez, Associate Vice Chancellor and Dean of Graduate Studies
Laurie Bellows, Associate Dean of Graduate Studies
Services

Assists faculty with recruitment of students for training grants
Provides graduate student development programs that can enhance training proposals
Provides specialty expertise in recruiting under-represented graduate students
Related Resources
Faculty resources on Office of Research webpage