UNL achieves accreditation milestone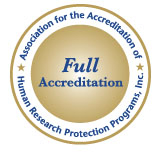 The University of Nebraska-Lincoln has earned full accreditation from the Association for the Accreditation of Human Research Protection Programs Inc. (AAHRPP), a nonprofit organization that maintains rigorous standards to protect human participants in research.
AAHRPP's June 19 announcement culminates more than two years of preparation by UNL's human subjects research protection team in the Office of Research. The voluntary accreditation process ensures institutions that conduct research with human subjects adhere to rigorous standards of accountability. It involves a comprehensive self-assessment, review and documentation of policies and procedures, as well as site visits and evaluation by outside experts.
"National attention to research compliance is increasing. This accreditation demonstrates our commitment to the highest quality research and research ethics as well as service to our faculty researchers," said Prem Paul, vice chancellor for research and economic development.
To earn full accreditation, organizations must demonstrate that they have built extensive safeguards into every level of their research operation and that they adhere to the highest standards. AAHRPP's standards exceed federal regulations by requiring organizations to address conflict of interest, to provide community outreach and education and to apply the same stringent protections to all research involving human participants, not just those involved in federally sponsored or regulated research.
"This major accomplishment is part of in our continuing efforts to promote responsible research campuswide and to hold ourselves to the most stringent standards," said Kimberly Andrews Espy, associate vice chancellor for research who led the UNL's human research protections program accreditation efforts.
Paul said credit for achieving accreditation goes to Espy; Dan Vasgird, director of research compliance services; staff in the Office of Research Responsibility; and Dan Hoyt, professor and chair of sociology who chaired the Institutional Review Board during much of the process.
UNL is the first Nebraska university to earn full AAHRPP accreditation and one of 129 organizations representing more than 550 entities nationwide that are accredited. Forty-two percent of the nation's research-intensive universities, 36 percent of U.S. medical schools and 52 percent of Department of Veterans Administration facilities are now accredited.
"Accreditation holds organizations to the highest standards of protection, so each accreditation marks another milestone for research participants and for all of us who are committed to safe, ethical, excellent research," said Marjorie A. Speers, AAHRPP president and CEO.
Accreditation is valid for three years.