Resources | Policies & Guidelines | IACUC FAQ | Forms | Training | Life Sciences Annex Animal Per Diems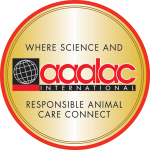 The Institutional Animal Care Program (IACP) at UNL ensures the humane care, use and health of animals used in the teaching, research and extension missions of the university. IACP provides veterinary services and coordinates animal health care oversight on campus and in UNL's satellite facilities around the state, and provides the support and training necessary to assure high quality care and use of the university's animals.
These goals are met through:
review and approval by the Institutional Animal Care and Use Committee (IACUC) of all research and educational activities involving vertebrate animals (including wild mammals and birds) before projects are initiated, to assure compliance with all laws, regulations and rules governing the care and use of animals, and
continuing review and monitoring of approved studies.
Click here for more complete information about the IACP, and about policies and guidelines for university personnel who use animals.