Vice Chancellor's Welcome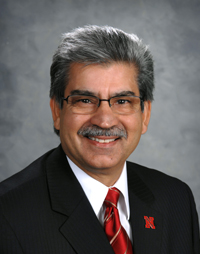 Welcome to the University of Nebraska-Lincoln's Office of Research. Our university's research enterprise has achieved great success in the past decade. We have expanded the breadth and depth of our research, scholarship and creative activity, strengthened our strategic partnerships and established NUtech Ventures, a nonprofit university affiliate, to commercialize our research discoveries to benefit society and fuel Nebraska's economy.
In a recent 10-year span, UNL ranked seventh among all major U.S. research universities in the percentage growth in total National Science Foundation R&D federal research expenditures. Our faculty are being recognized for their accomplishments, publishing in leading journals and earning prestigious awards for their innovative efforts.
While we are proud of our accomplishments, we remain focused on the future and on strengthening UNL's research and its impact on our state, nation and the world.
As an institution, this is our time to think boldly. Today's challenges are complex and the solutions will require great resources of talent, expertise and infrastructure as well as collaborations that engage diverse disciplines. At UNL we are reaching beyond our institutional, state and national borders to find new partners who share our bold vision. Whether we are teaming with agencies or other institutions, developing collaborative research programs with the national laboratories or launching joint ventures with private businesses, forming new partnerships is one of UNL's highest priorities.
Our most exciting partnership is Nebraska Innovation Campus, a 249-acre private-public research and technology center adjacent to campus. Innovation Campus will leverage UNL's research capacity by attracting private sector companies to locate near the university where they can work closely with university researchers, generating jobs and economic activity. This is a long-term venture with vast potential for collaboration, innovation and economic development for our private partners, our state and our university.
These are exciting times for UNL research. I invite you to learn more about us through this Web site. If you are interested in exploring partnership opportunities with UNL, we would be happy to visit with you. Please contact me at ppaul2@unl.edu or (402) 472-3123.

Prem S. Paul
Vice chancellor for research and economic development