Summer 2007
Called
NURAMP
(Research Administration Management Program), the goal is to ensure that UNL research continues to move forward in compliance with funding requirements and in support of the principles of institutional integrity and credibility. NURAMP provides the latest information on research regulations, policies and procedures, and access to resources and contacts for further assistance in managing research projects and programs.
MORE ...
Dean Sicking
Sicking is a recipient of the National Medal of Technology, the highest honor the U.S. president bestows on America's leading innovators. President George Bush was scheduled to present Sicking and the other medal winners with their awards at a Presidential Awards Ceremony July 27. The White House ceremony was part of a day of events honoring the 2005 and 2006 winners of the National Medals of Technology and Science.
MORE ...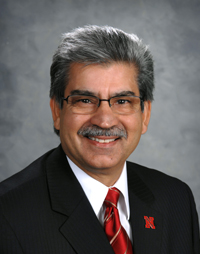 Prem Paul
MORE ...


MORE ...
Faculty Forum on NUtech Ventures
that drew about 60 faculty, staff and students in April.
MORE ...
American Association of Laboratory Animal Science (AALAS) Learning Library
offers online training for researchers, veterinarians and others who work with animals in research or education settings, including some required courses.
MORE ...
MORE ...
MORE ...
MORE ...

The following is the list of all arts and humanities grants of $10,000 or more and all other grants of $200,000 or more awarded to UNL faculty between March 16 and July 16, 2007, as reported through NUgrant, UNL's electronic research administration system.
MORE ...
Biomedical research collaboration seed grants
Strategic research cluster awards
Nebraska Research Initiative

The research, creative and scholarly activities of UNL faculty often garner media coverage. Here are a few examples of national coverage since March.
MORE ...

Proposal and Award Policies and Procedures Guide
(NSF 07-140). The guide, which took effect June 1, contains updated information about NSF's proposal preparation and submission guidelines.
MORE ...

Recent awards, recognition and accomplishments by UNL faculty for research and scholarly and creative endeavors. We'll highlight faculty accomplishments in each issue of Research News. Let us know about yours by e-mailing the information to vmiller2@unl.edu.
MORE ...

Sept. 18-19,
Chemical Safety - What You Don't Know Can Hurt You
, various locations
Sept. 27, Celebration of 3 millionth volume in UNL Libraries' research collection, ceremony and lecture, Love Library, auditorium
Oct. 23,
Writing Winning Grants seminar
, East Campus Union
Nov. 1, Nebraska Lecture: Chancellor's Distinguished Lecture Series, Geoscientist Sherilyn Fritz, Nebraska Union
April 1-3, 2008, UNL Research Fair
Please e-mail general interest events for the fall newsletter to vmiller2@unl.edu.